When it comes to supporting charitable causes and fundraising efforts, personalized t-shirts have become an indispensable tool for nonprofits and organizations across Canada.
These custom apparel pieces not only serve as a means of raising funds, but also play a crucial role in spreading awareness, fostering community support, and promoting sustainability.
Personalized T-Shirts and Charitable Causes
Charitable organizations across Canada have recognized the potent combination of custom t-shirts and their causes.
Custom t shirts for charities are not just pieces of clothing: they are powerful tools for conveying a message and rallying support. By adorning these shirts with unique designs that resonate with their missions, nonprofit organizations can instantly capture attention and engage potential donors.
The connection between custom t-shirts and charitable causes goes beyond aesthetics, as well - these t-shirts serve as walking billboards, spreading the word about various charitable initiatives. As individuals proudly wear their custom t shirts for charities, they become mobile advocates, sparking conversations and piquing the curiosity of those around them. This organic form of marketing is invaluable for nonprofit organizations, as it helps create a buzz and draw more supporters to their causes.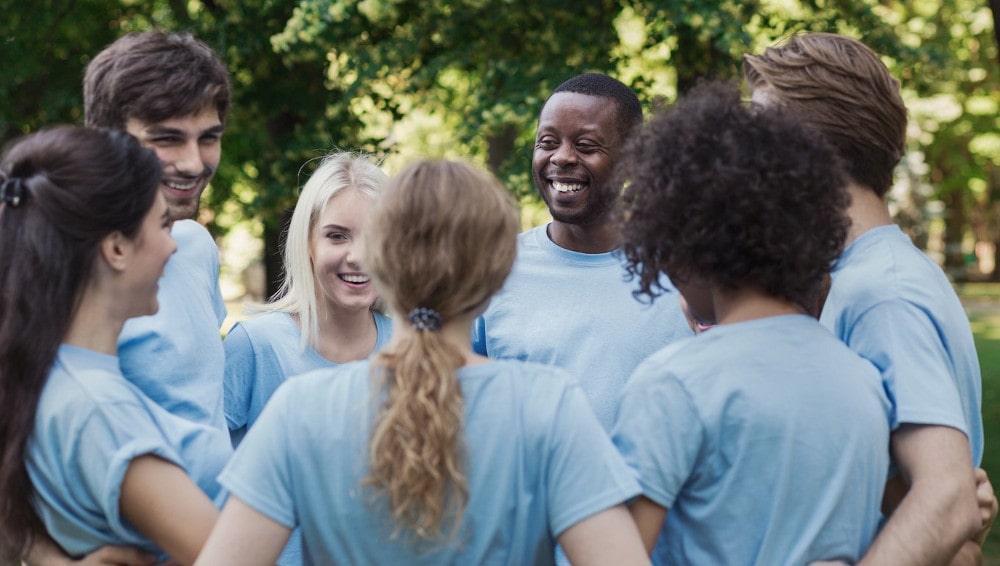 The Art of Designing Impactful T-Shirts
Designing custom t-shirts for charity is an art form in itself: the key is to craft designs that not only look appealing, but also effectively communicate the essence of the cause.
Powerful imagery, compelling slogans, and thoughtful colour choices can make a significant difference in capturing the hearts and minds of potential donors. Designs should also be clear, concise, and emotionally resonant - for example, a charity focused on environmental conservation might opt for a design featuring a majestic forest scene with the tagline "Protect Our Planet." Such designs evoke an emotional response and convey a sense of urgency, encouraging people to take action.
Collaborating with talented graphic designers or leveraging online design tools can help nonprofits create impactful visuals for their custom t-shirts. It's essential to ensure that the design aligns with the organization's mission and values, in order to create a genuine connection with supporters.
Building a Supportive Community
Personalized t-shirts have the unique ability to foster a sense of community among donors and volunteers. When individuals proudly wear custom t shirts for nonprofit organizations, they feel like part of a larger movement, united by a common cause. This sense of belonging encourages ongoing support and engagement.
Moreover, custom t-shirts can be used strategically to recognize and reward dedicated supporters. Charities can create exclusive t-shirt designs for top donors or volunteers, providing them with a tangible token of appreciation. This not only strengthens their commitment to the cause, but also encourages others to strive for similar recognition.
The community-building aspect of personalized t-shirts extends to events and fundraisers, as well. Participants wearing custom event t-shirts become instant ambassadors for the cause, helping to generate enthusiasm and support among their networks. It's a powerful way to extend the reach of charitable initiatives.
Sustainability and Quality in T-Shirt Choices
By choosing eco-friendly fabrics and responsible manufacturing processes, nonprofits can align their efforts with the values of a growing segment of socially conscious consumers. After all, sustainability isn't just a buzzword: it's a genuine commitment to making a positive impact on the planet.
Custom t shirts for charity can be created using organic cotton, recycled materials, or other environmentally friendly options. This not only reduces the environmental footprint, but also sends a message about the organization's dedication to responsible practices.
Additionally, ensuring the quality of custom t-shirts is crucial for long-term engagement. High-quality shirts are more likely to be worn repeatedly, extending their reach and impact, and durable prints with comfortable fits enhance the overall satisfaction of supporters, further reinforcing their connection to the cause.
How to Order T-Shirts with Toronto Tees
In Toronto, when it comes to transforming your custom t-shirt designs into reality, there's no better option than Toronto Tees.
At Toronto Tees, we grasp the significance of tailor-made t shirts for charities and fundraising activities, and we're dedicated to aiding you in creating an impact. Our strengths encompass swift production, guaranteeing that your unique t-shirts are prepared when required, and we present a broad spectrum of personalization choices, empowering you to materialize any design, regardless of its complexity or distinctiveness.
As a whole, tailor-made t-shirts have surfaced as a crucial resource for Canadian charities and fundraisers. These customized clothing items not only function as fundraising instruments, but also have a pivotal role in heightening awareness, cultivating community backing, and endorsing sustainability.
By tapping into the potential of custom t-shirts, philanthropic organizations can effectively communicate their message, engage backers, and leave a lasting imprint on their causes.
If you're looking to order custom t-shirts in Toronto, Toronto Tees stands as your reliable ally in materializing your designs. Get in touch with our crew at Toronto Tees for all your t-shirt printing requirements. Together, we can mould a difference, one t-shirt at a time.